Orientation Days
Orientation Days (shortly ODays) is organized for all incoming international students one week prior to the beginning of the Academic year. Generally, students get familiar with the University, city of Prague and the Czech culture. They gain necessary information for their start at the Prague University of Economics and Business and in the Czech Republic.
2020 Orientation Days were held from 16th till 18th September 2020.
Preliminary programme of the Thursday's lectures can be found here.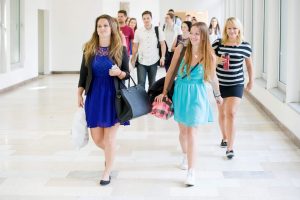 Are you interested in how fun this event is? Let's have a look at our photos from the Orientation Days!
Preliminary programme of the Thursday's lectures can be found here. Students will need to register for each lecture – more information will be announced by the coordinators of individual programmes.
Generally about the ODays
WEDNESDAY – First day is considered as the most important day for all the international incoming students. It is known as a Registration Day, students are asked to come to the University to register to the given study programme and to the student organization ESN Buddy System and pick up important documents as well as University ID card.
THURSDAY – Second day contains presentations about Cultural Shock, Czech Language Course and History of Czech Lands.
FRIDAY – Third day is devoted to students, who need a visa in order to live and study in the Czech Republic. Lectures organized by an NGO "Slovo21" are called "Welcome in the Czech Republic" and can be shortly introduced as "all you need to know about your visa".