Welcome Weekend
The Admission & Marketing Office together with the Development and Counselling Centre and the Centre for Physical Education and Sports of the University of Economics, Prague are very sorry to announce that the Welcome Weekend is cancelled. We will keep you updated with any other events organized at our University.
We hope that you are just as excited to be at the University of Economics, Prague (VSE) as we are to have you!
That´s why we invite you to join our Welcome Weekend  – a weekend packed full of activities and events designed to help familiarize you with VSE, make new friends, aid in academic success and meet different degree program students from around the university. Some activities will introduce you the university life and enable you to start the studies off successfully, while other activities are optional based on your interests and needs.
You can look forward to taste the Czech nature and enjoy the outdoor games with your new friends!
Date: September 28 – September 30, 2018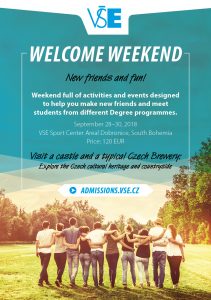 Departure: Friday September 28, 14:00 from VSE campus, W.Churchill Square 4
Arrival: Sunday September 30, 16:00 to VSE campus, W.Churchill Square 4
Destination: Dobronice u Bechyně, VSE sport center
VSE sport center is located in Dobronice u Bechyně. Its location near the river Lužnice allows you to appreciate the beautiful nature of the South Bohemia and offers variety of sports facilities as well as great places for relax.
Price: 3 100 CZK (approx. 120 EUR). This price includes accommodation, transportation, food, programme, sports facilities.
Accommodation: bungalows 2-3 person/room, University wifi "Eduroam" available in the area
Transportation: bus
Food: full board (5 meals/day), drinks for the whole day
The applications are closed.
Program
During this Welcome weekend, you can:
Enjoy variety of outdoor activities and teambuilding games and enjoy the time with your new friends
Meet your classmates and make friends for the whole period of studies
Learn about the Czech Republic and its culture, habits and trends
Gain the information about the study abroad possibilities and internships
Get to know the university
Socialize during the evening party
Have fun ?