Campus & Facilities
Campus Map & 3D Plan
Wondering what does the campus look like? Great, browse them here: the 3DPlan of VSE and the Campus Map
Student ID card
All students of VSE obtain a student ID card which allows them to use the facilities and services offered by the university, i.e. library, canteen, computer laboratory, WiFi connection, etc. They also benefit from other student advantages such as the reductions provided by the state and private institutions – see student tarifs for the public transport.
University Library
The university library is open for students after a simple registration procedure. Some of the international degree programmes also have their own limited library that offers basic literature and study material for the students in a respective programme. A basic guide and essential information can be easily reached here.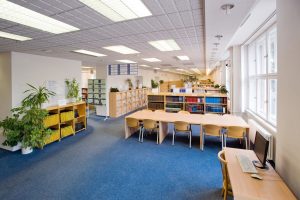 Students can visit and use other public libraries in Prague, i.e. the Library of the Institute of International Relations, Prague as well as the Municipal Library of Prague.
IT Support on campus
Computer labs are located in the rooms SB18, SB19 (out of courses schedule) and the university library. There is free access to WiFi on the university campus if you use your own laptop. Study Centre and Internet access are available in the dormitory, too.
Copy/scan is possible in the University Library which is located in the mezzanine of the Old building.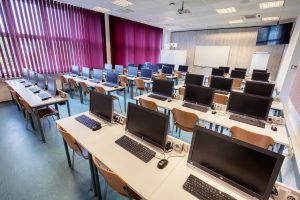 Canteens, cafeterias and restaurants on campus
Students can eat in the canteens on the university campus and at the Jarov dormitory for student (lower) prices.
There are also other meal opportunities (cafeterias, Academic Club – the roof-top restaurant).