LIFE IN PRAGUE: SAPA Vietnamese Town
By: Christyn Chew
The Chinese Lunar Calendar commemorates the new year based on the cycles of the moon and sun which in this year falls on 22 January 2023 welcoming the auspicious Water Rabbit zodiac. It is celebrated grandly in China and South East Asian countries such as Vietnam, Thailand, Japan, South Korea, Singapore, Philippines, Indonesia and my home country Malaysia, each country brings forth unique traditions and cultural practises in the spirit of unity and prosperity.
As I've promise you the introduction of SAPA in my previous blogpost, what better time than the Asian New Year to showcase the little Vietnamese town through a full day food trip covering the secret food spot in SAPA! So hop on and here it goes!
HALO BÁNH MÌ (Libušská 319/126, 142 00 Praha-Libuš-SAPA, Czechia) 

Freshly baked crispy baguette with fluffy soft crumb stuffed with Asian savoury spiced meats/ham topped with garden herbs is the epitome of take away snack! Find this gem nestled at the corner lot of a busy street with beautiful wall arts and an al fresco balcony to chill. HALO Banh Mi serves this French introduced gastronome from 80czk Bahn Mi ala carte or make it a Combo Set with fresh orange juice, cola or iced Vietnamese coffee starting from 120czk! Check them out here at https://www.facebook.com/halobanhmi/ or call +420 773 868 630 to pre-order and pick up directly from the window!
Snack Food Street (Food Market 142 00 Praha-Libuš-SAPA, Czechia)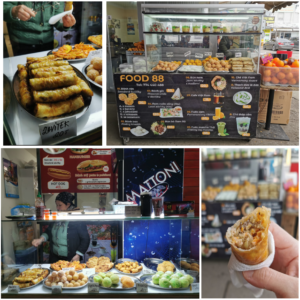 Snack along the way at the beginning of the SAPA dry market food court street with these little pop-up stall showcasing Vietnamese street food such as deep fried Vietnamese Spring Rolls with finely julienne carrots, mushrooms, turnips and minced meat for only 20czk each, or try the sweet range of Deep Fried Sesame Balls filled with fruity mango custard, coconut, meat fillings or seasonal flavours. An easy hassle-free way to be on the move while you explore more!
Psss: there's also a new Instagram worthy snack shop called Chị Hai Street Food, exactly location here https://maps.app.goo.gl/gicsqXNTkZwZ1CuWA
Phở Tùng (Libušská, 142 00 Praha-Libuš-SAPA, Czechia)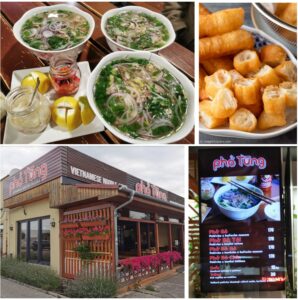 Right opposite Halo Banh Mi is the famous Vietnamese Phở specialist noodle restaurant serving delicious piping hot clear chicken/beef broth with flat rice noodles topped with fine sliced red onions and fresh corianders in a huge giant bowl portion. You can choose either Chicken Phở noodle with sliced steamed chicken meat or the Beef Phở noodles with tender beef slices each for 170czk per bowl. Special fried dough sticks called "Quẩy" are chewy delicious noodle dipping complements at 15czk each, get them crispy hot out of the kitchen as they sold out quickly! Opens from 8am to 7:30pm daily, you can check them out at https://www.facebook.com/photungsapa or call +420 720 663 388 for take aways.
Bún Huế Xua Restaurant (Libušská 319/126 TTM SAPA 14200 Prague)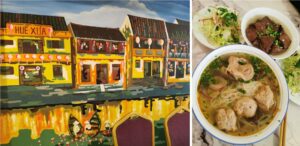 If you're craving for the ultimate eu-Phở-ria umami flavours, head over to Hue Xua restaurant inspired by "Old Huế" city in central Vietnam serving this special dish called Bún Bò Huế made of Vietnamese thick round rice noodle soup dish with sliced beef, handmade meat balls and pork knuckles simmered in the former Huế royal court cooking style for 190czk each bowl. Not for everyone but go on to level up your Asian palette with a side of congealed pork blood curd if you've never tried it, here's the place to start if you wish. Reach them by phone at +420 608 349 902 or find them located right under the building along the car pathway at https://maps.app.goo.gl/H9stZP5xyHFVYxWVA.
Bún chả Hà Nội (Little Hanoi, 142 00 Libuš, Czechia) 
Out with the soups and into the flaming grills of Bún Chả Hà Nội restaurant! Run by a friendly Vietnamese couple serving the best grilled marinated meats in SAPA featuring the Grilled Duck Bún Chả served with Rice Vermicelli, side of bamboo shoots soup, plate of salad mix with fresh mint, coriander, and herbs, with an awesome dark soy dipping sauce, all only for 160czk or switch the basic protein of your choice to Steam Chicken Bún Chả 160czk, Grilled Pork Bún Chả 150czk or Spring Roll Bún Chả for 130czk. Did I also mention they offer little cups of hot lotus tea at the entrance? Because this little stall has so much to offer it's no wonder they are 4.8 stars on maps, visit them here at https://maps.app.goo.gl/parCcCDNUau9fv5a8 or call +420 775 621 599.
Bánh Cuốn Phương Phượng (Libušská, 142 00 Praha-Libuš-SAPA, Czechia)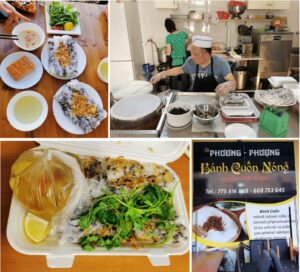 So by now you have tried the basic Phở soups, upgraded Bún Bò Huế Soup, Bún Chả grilled meats, but this here my friend, is made from scratch, freshly steamed sheet by sheet, sprinkled with minced meat and wood ear mushroom, rolled and wrapped delicately into a silken mouth-watering platter of Bánh Cuốn a.k.a Vietnamese Rice Rolls garnished with deep fried crispy shallots. This northern Vietnamese dish is served with a side of Chả Lụa (Vietnamese pork sausage), specially curated fish sauce for dipping, and the indispensable herb platter for 160czk each set of 5 rice rolls. Be sure to call in advance to reserve your portion as they are handmade and often sold out before noon. Find the friend family run business here at https://maps.app.goo.gl/Z8gWMu54SeHw9pnRA and save this traditional call line at +420 775 621 599 to pre-order!
Last but not least, for finale of our day trip – desserts!!
Chè Sài Gòn (142 00, SAPA, Praha-Libuš, Czech) +420 723 313 032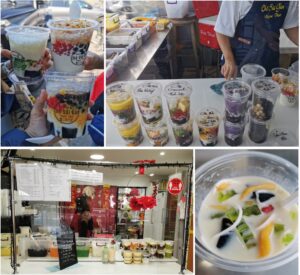 Rainbow selections of desserts are what Chè Sài Gòn offers! Freshly made in house Caramel Flans are super delicious for only 60czk to start, followed by the highlight "pick and mix dessert cups" where you customize your favourite base such as homemade yoghurt, fresh milk or coconut milk, then add on your selection of toppings such as tapioca pearls, grass jelly, fresh coconut shreds, taro paste, mango and try more interesting fruits such as sweet Attap Palm Seeds, Jackfruit, or even the notorious Durian in your dessert. There's a list of Top 10 Favourite combination to make life easy, so go on pick one for now and one more to go because you'll not find this easily for only 80czk each! Google map exact location here at https://goo.gl/maps/ArSShdjAFF2z1Ev26 and call at +420 723 313 032 if you're buying in bundles.
Next door dessert shop (142 00, SAPA, Praha-Libuš, Czech)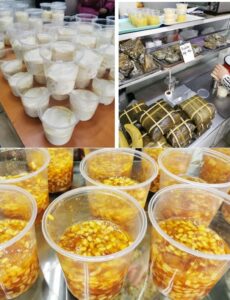 …and if you're lucky, upon exiting Chè Sài Gòn dessert shop on your left, you'll find a small shop stacking these cups of Tào Phớ filled with extra soft silky white Homemade Soy Milk Beancurd soaked in light sugary syrup made traditionally by an old couple. It's a perfect dessert that melts in your mouth and delicious either hot in winter or cold on summer depending on your preference. Sometimes granny also makes Chè Hoa Cau which is slimy gooey thicken Mung Bean Pudding with Coconut Milk and assorted homemade dumplings. Her desserts are 50czk each and worth every crown, if only you can find her 😊
–
So that wraps up the food tour in SAPA little Hanoi town, but if you'd like to do some grocery shopping while you're at it, here's a simple list for you,
Most shops in SAPA prefers cash, especially smaller businesses so it would be good to prepare some in advance, but if you run out there is always ATM machine at the entrance of TAMDA Hypermarket where you can withdraw.