Webinars
In addition to the Open House Day, webinars with academic directors, coordinators and prospective students were organised in March 2021.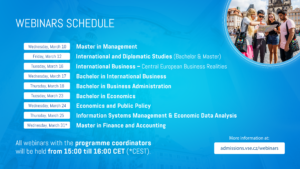 Recording
The Bachelor in International Business programme (IBB) webinar recording is available here.
The webinar of the programmes Information Systems Management (ISM) and Economic Data Analysis (EDA) on March 25, 2021 was streamed online on YouTube. Please click here for the recording and for more information.
---
For more information about the programmes, please take a look at the overview below with links to the programmes' websites and emails to the coordinators:
Bachelor Programmes
Master Programmes
Did you know that students of the International Degree programmes…?  
come from 97 countries

?

 

have the same benefits as Czech students, including the chance to get merit scholarship?

 

are guaranteed a spot at the university dormitories?

 

can spend one semester abroad at one of nearly 250 partner universities?